"This is how I learn."
~5th grader, after completing the MIP Around the World in One Day
Introducing "Museuming"1
Clueless about what they're getting into when the Museum-in-Progress (MIP) project begins, students brace themselves merely to carry out another assignment. The start is deceptively simple for the students but for teachers and me, as the MIP project coordinator, the intent is to collect data on the students' previous museum experiences by asking, "How many of you have been to a museum? What did you see? Do?" The usual suspects of history, art, and science museums are mentioned. Rarely do students consider aquariums, zoos, and living history sites—such as Williamsburg—to be museums. After referencing these types as museums, the students are already increasing their museum vocabulary. And this is just the warm up.
After students list reasons museums exist, we compare those reasons with the goals for their classroom. Pretty soon students realize that museums and schools share the same overarching goals: to educate and to research, preserve, and interpret culture and history. But if this is the case, then how are they different, and why is that difference important to know? Pose the first question to students and they're usually stumped. With prompting, they recognize that museums contain original or primary source artifacts vs. schools having reproductions or secondary source materials. To answer the second question, we hit them with MIP's goal: students will become curators of primary sources, to turn their school into an interactive museum, filled with artifacts they collect and create—additional primary sources.
Museum-in-Progress
After shifting from being a classroom art teacher to a museum educator, I realized that schools and museums have common goals for learners. Both use artifacts to illustrate facts and ideas. Yet these institutions differ in their education strategies and the assessment methods they use to reach their goals. To see if teaching and learning the school curriculum could benefit from integrating strategies that museums use to design exhibitions, I created the program Museum-in-Progress. The name deliberately includes the word "progress." Students are motivated to engage actively in learning by participating in the dynamics and strategies of creating an environment where they can teach others.
The basic components of an MIP project consist of a title, an object, supporting details, and an activity. The title is a clue to what information students want visitors to know as a result of touring their school museum. The object becomes a focal point that makes the information tangible. It could be created or collected to be displayed on a bulletin board or grouped on a table. The supporting details place the information in context and could be graphs, maps, illustrations, quotes, descriptions, a life-size installation, a performance, or a demonstration. The activity engages visitors with the information. It's based upon how students want the targeted audience for the school museum to learn. An activity could be a game, an examination of an artifact through a microscope, a creative endeavor, or a challenge for the visitor to solve.
All these components are installed in a school space where the student curators have room to give tours and visitors can engage in the activities. MIPs have been as small as displays on desks in a classroom, stretched the length of a hallway, wound through a library, or displayed in a gym.
After the installation is complete, students rehearse giving tours to each other. Nerves and excitement build leading up to the moment when the MIP opens. Students transform into curators, encouraging other grade levels, families, friends, and school administrators to participate in the activities. The act of asking and answering questions strengthens both student curators' and visitors' knowledge. MIP student curators become teachers for the school community.
The time needed to do an MIP project depends upon a number of factors. For example, teachers need to ask questions. How long will it take students to learn the museum content? What kind of help do students need to create or collect artifacts and to complete the installation? How long is the school space available for the installation? Generally, elementary students have completed the project in a semester and middle and high school students have completed an MIP in a week.
What Skills Are Developed?
At the beginning of an MIP, it's almost a guarantee that no student can describe or comprehend what a museum curator does. MIP trains students in the roles and responsibilities of being a museum curator, as teachers educate students on the curricula content and concepts. Students are filled with curiosity, yet are unaware that they're about to embark on a journey that will put them in charge.
The skills that a curator uses to create an exhibit are the skills that teachers want students to have gained when they graduate, including a knowledge of all the disciplines, along with creativity, flexibility, and the ability to work independently as well as in a team. Yet, the first curatorial step doesn't help students realize how much they'll be empowered. When students find out that they'll be divided into teams–not necessarily working with friends–and will have to do research to learn facts about a particular topic, the reaction is a limp buy-in.
Students earn the title "curator" by researching, collecting, creating, categorizing, exhibiting, and interpreting primary and secondary resources about events and cultures. When the curriculum requires students to learn about American history, or the history of their cultures or other countries, they make use of Folklore in Education practices. Students exchange information with family members and friends who have studied that time period or experienced the culture firsthand. The process of integrating museum, school, and folklore strategies culminates with students demonstrating their knowledge by creating a museum filled with interactive exhibits in their school.
Student curators host an exhibit opening and conduct tours for the community. In addition to celebrating proof of students' achievements, an opening serves multiple purposes. During tours, as the student curators ask and respond to visitors' questions, they exercise their listening and communication skills. As these curators give tours of their exhibits, they make the curriculum come alive and help others understand how the curriculum is relevant. As a result, student curators realize how much they've grown in their learning.
Let's return to that seemingly basic first step of researching a topic. Research, usually a familiar (and boring) task, becomes an exciting challenge when students find out they'll present the facts to a live audience, with a twist, as when Gregory Elementary School's 4th graders assumed the personas of people who had critical roles during the U.S. Civil War, turning their MIP into a theatrical wax museum.
Interest in that challenge intensifies when facts can be found outside school, giving significance to non-conventional sources. For example, 32 percent of the 5th graders collected artifacts from their countries of origin. Those who had relatives with experiences connected to the country they were studying interviewed and collected artifacts from them. One girl, adopted from Guatemala, remembered when her mother came to get her and then years later visiting Guatemala and bringing back authentic artifacts.
Motivated to master their topic, the teams write down the pertinent facts that they want visitors to learn as a result of touring their exhibits. Now they're motivated to learn, but they're still trying to figure out how to work as a team. Partly because they're in the midst of defining what their exhibit will consist of, the students lack self-confidence in their ability to pull this off. How to coach students so they can move forward? Teachers balance familiar tasks with new MIP skills, thus encouraging students to take risks and experiment.
Who Are the Experts?
For an MIP, classroom teachers determine the curriculum content to be emphasized, based upon required standards. The art, drama, and museum specialists build upon the foundation established by the classroom teachers. These teachers form a team that functions collectively as a museum director. They facilitate students' exploration of academic content by posing and answering questions, then coach students on how to generate fact-related questions. This inquiry-based approach values research and problem-solving skills as much as it does an understanding of the academic content.
Just as teachers generate experiences that provoke students' curiosity, MIP students develop confidence in modeling this approach. As MIP advances, students learn to plan a sequence of questioning that engages visitors and encourages them to think. Questions to ask visitors are integrated into their scripts and then turned into essential exhibit props. A prop can be as simple as a folded paper with a question written on the top flap. Once the question is asked, student curators give visitors time to respond before revealing the answer on the inside flap.
The art specialist adjusted her curriculum to have students in both grade levels develop their artistic skills by crafting props to illustrate facts in their scripts and by painting backdrops to define each team's exhibit area. The drafting and construction of a backdrop produces a learning environment—a stage—that places a student's famous person in historical context, or immerses visitors in that country's traditions, languages, arts, and customs.
A drama consultant coached students on how to write, rehearse, stage, and perform scripts that highlighted their researched facts. I coached the teacher and students through two key phases of the project: introduction of the roles and responsibilities of a museum curator and brainstorming how to engage visitors in learning facts about the content.  The combination of social, intellectual, and physical experiences stimulated students' different learning styles and provided team-bonding opportunities.
Student curators begin to realize that listening to visitors' responses provides clues to visitors' prior knowledge and guidance on what and how to teach visitors next. This is one example of the many "habits of mind" MIP curators develop.2 As students take ownership of their learning, a desire to be lifelong learners is fostered. This authentic, investigative, approach aids students in drawing connections between academic content and their own lives. Students apply their learning and become experts.
Connecting/Collaborating
Figuring out how to solve problems as they arise helps students gel as a team. Even if there's a clear leader in the group, by brainstorming multiple solutions, others discover the strengths they can contribute. For example, when one team member was very hesitant to speak, his teammates compelled him to practice and assisted him in memorizing his script.  Unexpectedly, during one planning session, the Laotian student burst out singing his national anthem. Astonished by his new-found voice, his peers encouraged him to sing in his exhibit. Buoyed by their reactions, he twisted a green pipe cleaner around his ear and pointed it at his mouth, to replicate a microphone.
Students also learned that a plan needs to be flexible, especially for those unpredictable moments. On the morning of the 5th-grade MIP opening, a student in the Africa group expected to change into a two-piece outfit. But upon unwrapping it, the pants dropped into the toilet! Another student in her group had brought two dresses and offered her one to wear.
Assessing and Expanding the Learning Environment
A student-created MIP is a form of assessment. It represents the best knowledge to date that student curators have of a subject. And the more an MIP can make the learning process visible, the more ways students, teachers, and the school community have to measure student growth.
Yet one complaint shared by students was not all the talking or presenting, but how tiring it was to stand and give tours for 90 minutes. Comparing that timeframe with how long teachers stand in the classroom didn't awaken any empathy. When asked if they would change anything, one 5th grader said, "To include more breaks. My thigh fell asleep while standing."
To discover the impact of their exhibits, students collected data on the community's prior knowledge. On opening day, before family members and friends entered the 5th-grade MIP, they faced a wall with names of countries written on it. Visitors were asked to write a fact that they knew about any country.
Then visitors were handed an index card that simulated a passport to fill out with facts that they learned as they progressed through the museum. When visitors dropped the cards off upon exiting, the cards documented where visitors had traveled and provided evidence of what they had learned.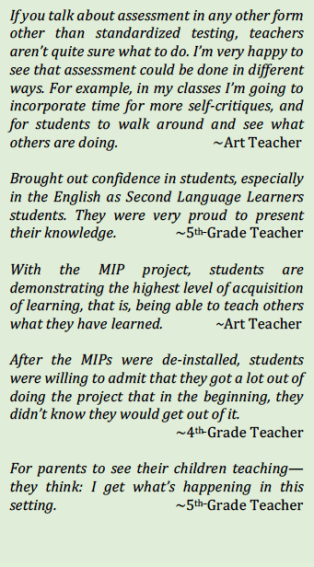 But the learning and assessment goes both ways. As family members toured the MIP, they witnessed the skills and knowledge their child had acquired. One student's grandfather served in World War II. Visiting the exhibit on Russia brought back memories of being in the war.
Like the students' initial reactions, at first teachers can't quite grasp the potential and logistics of an MIP project and how it will influence their teaching. Once they start implementing the strategies, teachers perceive the value of students participating in authentic, open-ended discussions. They see that a free exchange of ideas enables students to explore different understandings and to clarify and assess their findings. With the diverse entry points that MIP offers, even students with low levels of achievement and social skills become active participants and apply what they have learned.
Both teachers and students gain understandings that they couldn't have foreseen at the beginning of an MIP. Students feel comfortable telling someone's story. They embody different points of view. They develop respect for diverse cultural heritages. They're capable of changing abstract curriculum content and 21st- Century skills into tangible, interactive, learning environments that make thinking capable of being assessed. Students learn to make meaning in the world around them and are inspired to enlighten others.
"All we ever do in class is read and write. I have something to share. I need to teach others what I have learned!"     ~4th-grader, after completing an MIP on famous figures from the Civil War
Peg Koetsch is Founder and Director of Learning Insight, www.learninginsights.us, a company specializing in the creation of innovative, educational, and interactive exhibitions, programs, professional development training, and products for schools, museums, and institutions, including Museum-in-Progress. As the Distance Learning Coordinator for the Smithsonian American Art Museum, Koetsch creates distance learning resources that integrate SAAM's collection with the curriculum of Department of Defense schools in the U.S., Europe, and the Pacific. Koetsch also trains Artful Connections volunteers to use SAAM's collection to present art, history, and heritage-related videoconferences to schools. Koetsch has held curatorial and program manager positions in museums across the country and is a National Teaching Artist for the John F. Kennedy Center for the Performing Arts.
All photos and videos by Peg Koetsch.
Endnotes
Coined by Richard Kurin, Acting Provost and Under Secretary for Museums and Research, Smithsonian Institution.
Works Cited and Resources
Amaral, Olga, Leslie Garrison, and Michael Klentschy. 2002. "Helping English Learners Increase Achievement through Inquiry-Based Science Instruction." Bilingual Research Journal 26.2: 225-234.
Costa, Arthur L.  and Bena Kallick, eds. 2008. Learning and Leading with Habits of Mind. Alexandria: Association for Supervision and Curriculum Development. Center for Inquiry-Based Learning, http://www.ciblearning.org.
McCarty, T. L., Regina Hadley Lynch, Stephen Wallace, and AnCita Benally. 1991. "Classroom Inquiry and Navajo Learning Styles: A Call for Reassessment." Anthropology and Education Quarterly 22.1: 42-59.
Nystrand, Martin and Adam Gamoran. 1991. "Instructional Discourse, Student Engagement, and Literature Achievement." Research in the Teaching of English. 25: 261–290.